Detroit: Gale, CBQ 65 : — TS 65 : —2. Review of Elliot C. Maloney, O. Portuguese translation of Strategies for Preaching Paul. Edited by Edward J. Col- legeville, Minn. Chennattu and M. Rome: LAS, Review of Daniel J. Harrington, S. New Theology Review : 81— Review of Thomas P. Rausch, Who Is Jesus? An Introduction to Christology. Int 59 : — Review of I. Int 60 : 84— Review of Jan G. Louisville: West- minster John Knox, Edited by William P. Edited by Katharine Doob Sakenfeld. Review of David E. Aune, ed. Catholic Historical Review 93 : — Campbell, Paul and the Creation of Christian Iden- tity.
CBQ 69 : — Review of James H. Charlesworth, ed. Riobamba, Argentina: San Pablo, Spanish translation of Strategies for Preaching Paul. Review of Gordon D. TS 69 : — SJT 62 : — Review of Larry R. CBQ 71 : — Int 63 : —7. Review of Stephen H. CBQ 71 : — Review of Calvin Roetzel, 2 Corinthians. RBL 11 : — Grand Rapids: Baker Academic, Review of Kieran J. Irish Theological Quarterly 75 : — CBQ 72 : — Fitzmyer, S. Edited by Peter Spitaler. Edited by Eric F.
Mason and Kevin B. Atlanta: Society of Bibli- cal Literature, Int 65 : Letters of Saint Paul. Audio CD. Professional Lectures, Papers, and Presentations — 1. Corpus Christi Church. New York.

October 21, August 16, Annandale, Va. November 10—11, Richmond, Va. Feb- ruary 20, Dover, Del. April 4, United States Air Force Chaplains. October 8—10, Davidsonville, Md. November 14, Lantana, Fla. January 28—29, Rose Parish. Meriden, Conn. March 6, November 18, March 23, Washington, D. August 17, November 16, Wesley Theological Seminary.
May 17, November 22, December 7, March 6 and 23, Margaret Parish. Madison, Conn. March 13, Joseph College. West Hartford, Conn. June 28—29, Holy Family Parish. October 15, 22, 29, and November 5, Disclosing the Mystery: Preaching the Christmas Cycle. Thomas Seminary.
Bloomfield, Conn. December 11, Hartford, Conn. June 25, Newington, Conn. September 14, September 19, Bartholomew Parish. Bethesda, Md. October 1, Theological College. Washington D. Amarillo, Tex.
Short Essay on Unity In Diversity For School Children - High School
November 4—5, March 17, Sep- tember 13, March 15, October 8, Uni- versity of Scranton. Scranton, Pa. August 8—11, Holy Family Monastery. May 19—20, Newing- ton, Conn. September 12, March 22, Lutheran Theological Seminary. Gettysburg, Pa. October 27, Bar- tholomew Parish.
October 17, June 21, Emitsburg, Pa. March 19, Colchester, Vt. July 12, Dominican House of Stud- ies. January 29, University of San Francisco, Calif. August 3, Austin, Tex. October 15—16, Halifax, Nova Scotia. August 7, Catholic University of America. November 17, Meinrad Seminary. Mei- nrad, Ind. October 5, Meinrad, Ind. October 6, Paul and the Renewal of Our Ministry. May 18, January 27, George Denzer Lecture. Semi- nary of the Immaculate Conception. Huntington, N.
Plymouth, Mich. June 19—20, Charles Seminary. Philadelphia, Pa. September 5, University of Maynooth. Maynooth, Ireland. March 3—7, Oklahoma City, June 9—11, March 30, Fordham University. Virginia Theological Seminary. Alexandria, Va. October 24, Orchard Lake, Mich. November 2, January 24, February 20, March 18, Catholic University of Amer- ica. March 20, Basilica of the Assumption.
November 21, Fulton Sheen House of Formation. Chillum, Md. Febru- ary 4, Georgetown Scriptural Institute. Georgetown University. June Loyola Marymount Univer- sity.
Unity and Diversity in the Gospels and Paul
Los Angeles. August 1, Takoma Park, Md. May 10—12, March 22 and 29, Assumption College. Worcester, Mass. Washington Court Hotel. September 17, September 12, 26; October 17; November 14, Edited by D. New York: Doubleday, Bauer, F. Danker, W. Arndt, and F. Chicago: University of Chicago Press, BDB F. Brown, S. Driver, and C. Oxford: Oxford University Press, BDF F. Blass, A. Debrunner, and R.
Chi- cago: University of Chicago Press, Edited by Paul J. San Francisco: HarperSanFrancisco, Liddell, R.
Rev. Frank Matera Ph.D. | St. Mary's Church | Simsbury, CT.
Curriculum Vitae.
Contact Monique Cohenka.
Dr. Sherri Brown's Book Chapter Published;
Account Options.
GURPS Magic: A Tome of Mystic Secrets for Fantasy Roleplaying (GURPS: Generic Universal Role Playing System).
Scott, and H. A Greek-English Lexicon. Edited by Albert Pietersma and Benjamin G. New York: Oxford Uni- versity Press, Edited by Leander E.
Get this edition
Nashville: Abingdon, — Ditten- berger. Leipzig: Hirzel, — Edited by James H. Charles- worth. New York: Doubleday, — Edited by T.
Kluser et al. Stuttgart: Hiersemann, —. Matera, colleagues and friends interact with elements of his many important works. Scholars and students alike will find fresh and stimulating discussions that navigate the turbulent waters between the Gospels and Paul, ranging from questions of Matthew's so-called anti-Pauline polemic to cruciform teaching in the New Testament. The volume includes contributions from leading scholars in the field, offering a rich array of insights on issues such as Christology, social ethics, soteriology, and more. View PDF Flyer.
In Vivo Models of Inflammation, 2e, Vol. II.
The Forgotten God: Perspectives in Biblical Theology : Essays in Honor of - Google книги.
Black Pepper: Piper Nigrum (Medicinal & Aromatic Plants-Industrial Profiles): The Genus Panax: 13 (Medicinal and Aromatic Plants - Industrial Profiles).
Matera, Frank J..
NEW TESTAMENT THEOLOGY: EXPLORING DIVERSITY AND UNITY – By Frank J. Matera;
UNITY AND DIVERSITY IN THE GOSPELS AND PAUL.
Rev. Frank Matera Ph.D.;
Biographical Note Christopher W. He is the author of John and Thomas—Gospels in Conflict?
neckningsilichhorn.tk
Christopher W. Skinner - Google Scholar Citations
Paulist, , and co-editor, with Kelly R. Kelly R. Matera Abbreviations Introduction Francis T. Gignac, S. Moloney, S. John R. Donahue, S.
Unity and Diversity in the Gospels and Paul: Essays in Honor of Frank J. Matera
Unity and Diversity in the Gospels and Paul: Essays in Honor of Frank J. Matera
Unity and Diversity in the Gospels and Paul: Essays in Honor of Frank J. Matera
Unity and Diversity in the Gospels and Paul: Essays in Honor of Frank J. Matera
Unity and Diversity in the Gospels and Paul: Essays in Honor of Frank J. Matera
Unity and Diversity in the Gospels and Paul: Essays in Honor of Frank J. Matera
Unity and Diversity in the Gospels and Paul: Essays in Honor of Frank J. Matera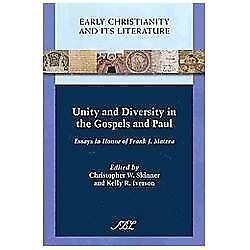 Unity and Diversity in the Gospels and Paul: Essays in Honor of Frank J. Matera
---
Copyright 2019 - All Right Reserved
---